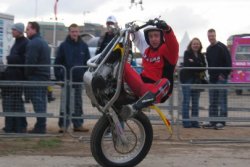 Trialstar has worked on lots of shows, fairs and festivals travelling far and wide, adding fantastic valued entertainment to all events that we have been involved in.
With many different types of events requiring new and exciting ways to draw and retain crowds, Trialstar offer the perfect package.
The Trialstar show involves the very best of motorcycle arena trials specialists performing amazing feats of bravery riding motorcycles over
cars, skips, jumps and 6ft high garden sheds to name but a few mind-boggling obstacles. If that is not enough, the riders are amazingly skilled entertainers who thrive on giving a fantastic show for all to see in total safety.

Appealing to all ages, young and old, with everyone appreciating the amazing ability and showmanship involved.
Our show is very versatile and can be adapted to the needs of the organiser. We can provide anything from a one rider commentated display, to a 6 rider show, either way, we can perform for as long or as short as is needed.
Trialstar is more than happy to headline any show as requested on many occasions or simply play a small part of filling in on the back of other displays to supplement and enhance any type of show or event.
We are very happy to talk to any organiser or promoter regarding queries as to how we can add to your event.